1949 modified friendship sloop
Blackwitch
Capture the spirit of the witch
The Blackwitch Experience
She is as smooth and fast as she is elegant.
A lovely winning gaffer in the Master Mariners Classic Regattas.
Beautifully maintained with a brand new spar.
overview
Blackwitch basics
Year: 1949
Type: Gaff-Rigged Sloop
Modified 32' Friendship Sloop
Hull Type: Wood
Builder: Wilmington Boatworks, Wilmington, CA
Designer: Ralph Winslow
LOA: 35'
LOD: 32'
LWL: 24'
Beam: 10' 3.5"
Draft: 5'2"
BLACKWITCH BIOGRAPHY
Blackwitch is a 1949 gaff-rigged sloop built at the Wilmington Boatworks after a Ralph Winslow design based on the Friendship sloops; these boats were originally exclusively built by the Morse boatyard. They were remarkable workboats, well suited for fishing the Maine coastal waters in all-weather. The design was later modified for a recreational use. Blackwitch is a wonderful showcase of a classic yacht that has been restored / rebuilt from stem to stern at the Spaulding Boat Center in Sausalito to high standards. All the planking below the water line is new as well as the decks and deck beams. This re-build is fairly recent (2008) and the boat has been meticulously maintained since. Recent Haulout: Bottom and Topsides painted: Yanmar Engine serviced: June 2017 and July 2018. A new spruce mast has just been recently built by Bruce Tipton at the Spaulding Boat Center, stepped and rigged (2015). She is built with Traditional carvel planking, Port Oxford cedar over hardwood frames; original frames 1¾" x ½" mostly all sistered with white oak 1½" x 1½". Fir deck clamps, fir deck beams, floor timbers and keelson; oak horn timber and mahogany rudder.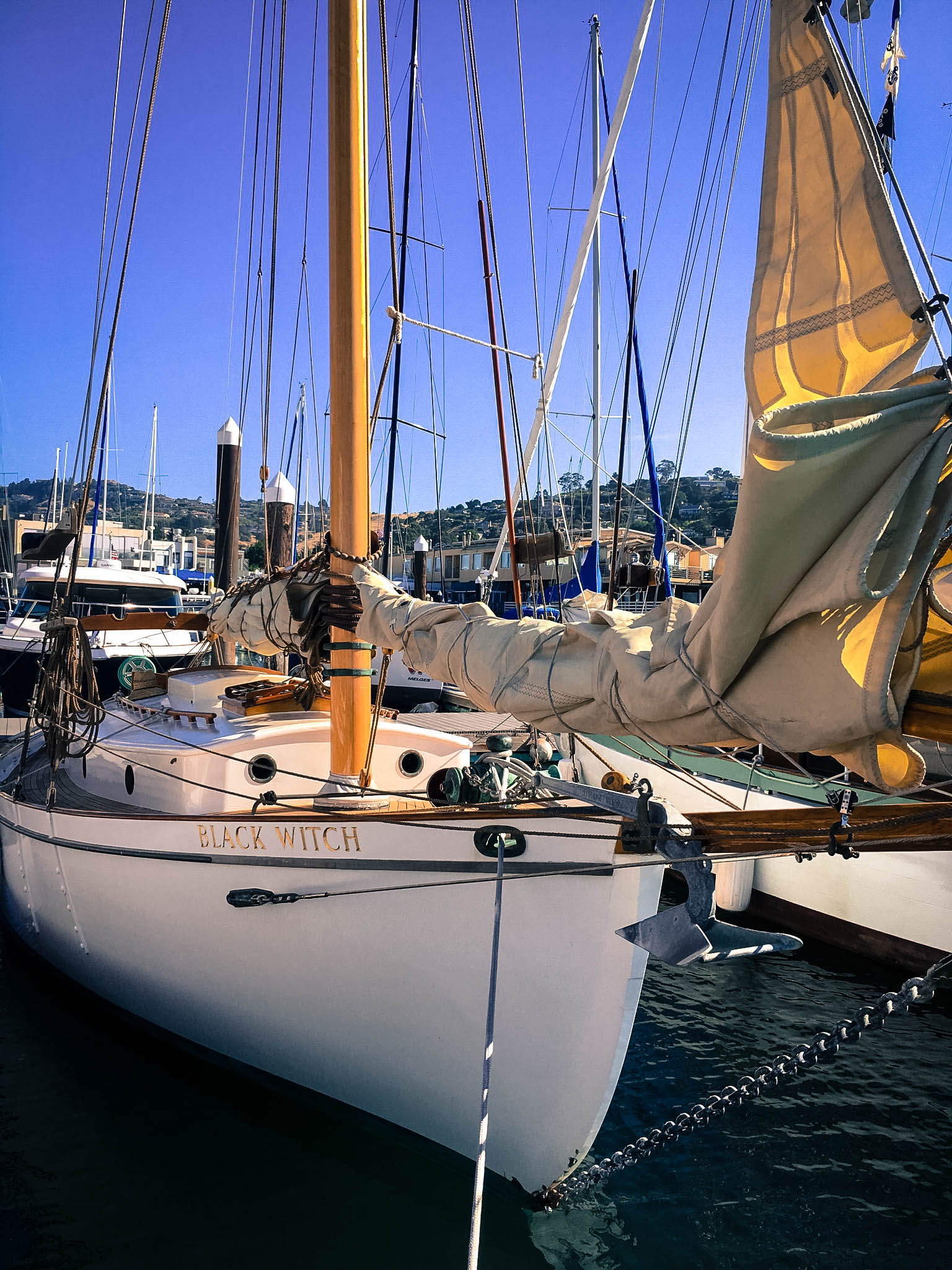 Let's talk about features.
Specifications
Attention to detail
Beautifully maintained. Just recently surveyed 12/2018!
"Blackwitch is deemed in excellent condition and a pleasure to survey."
- 2016 Surveyor
NEW REDUCED PRICE:
$97,500
Hull + Superstructure
Deck: Teak overlaid ½" Akuma Plywood
Cabin Sole: Solid Mahogany
Bulkheads: Painted Wood
Construction Scantling: Traditional carvel planking, Port Oxford cedar over hardwood frames; original frames 1¾" x ½" mostly sistered with white oak 1½" x 1½".
Deck Clamps: Fir
Deck Beams: Fir
Rudder: Oak horn timber and mahogany.
Mast: New Spruce spar: birds beak construction by spar expert Bruce Tipton at the Spaulding Wooden Boat Center: 2015
"The decks, superstructure and interior have been entirely rebuilt to high standards. The interior is very classic and finishes show superior craftsmanship; it was found uncluttered, and very clean."
Propulsion System
Engine: YANMAR Diesel 4-cycle: recently serviced
Year: 2008
Details: 3 cylinders, rated 28HP @ 3600 RPM
Model: 3YM30
Propeller: MICHIGAN 3 blade fixed bronze 16" RH 10"
Marine Gear: KANZAKI Tuff Torq
"[The engine} appears well maintained, clean and no corrosion."
Mechanical Systems
Wheeler + Tiller: WILCOX Crittenden 25" wheel
Steering Gear: Worm gear
Rudder: Mahogany
Anchor Windlass: IDEAL bronze horizontal manual windlass
Electric: RULE submersible type with float switch + auto/off/manual at electrical panel
Stove: MARINE FORCE 10 gimbaled double burner/oven g
New Propane System: 2016 8 gallon
New Holding Tank: 2016 10 gallons with premium sanitation hose
"Systems are well installed and operational."
Electrical
DC System
Batteries/Amps: (4) LIFELINE / 6v Deep Cycle AGM – in series / parallel for a 12v bank
Engine Alternator/Amps: HITACHI / 60 A
Charger/Amps: XANTREX True Charge / 20 A
All new LED lighting interior and exterior.
AC System:
Shore Power: MARINCO 30 A inlet & cable
Panel/Location: BLUE SEA / Adjacent to DC panel
Wiring: Stranded copper – well loomed
"The boat was re-wired during 2008 re-fit – new panels, batteries and battery charger. The installation is clean and wiring well loomed."
See her in person
Berkeley Marina
Currently moored in the Berkeley Marina.
Awarded the Stone Cup Trophy for best in show /restored vessel best boat, Professional Restoration at the 2016 Master Mariner Wooden Boat Show. Love it.